I talked about learning how to crochet
and my first project being an amigurumi. As promised, I'm posting an update on the progress of my little fish.
It is taking me a long time to move along with this project, partly because it's my first crochet piece, partly because
I wasn't thinking.
I kept losing count of rows and stitches, then I would go back and start an entire section over again. Until it dawned on me "
why am I not using a place holder to mark where the row starts?!?
"
Yeah, I know. You're probably thinking "how is this chick getting a PhD?" Well, in my defense, it isn't on crochet. :)
So now, things are moving along a bit faster. We'll see if I ever finish.
And if you're curious about the pattern and what it's supposed to look like when it's finished: I got it from
this book
(Kristen Rask's "Creature Crochet").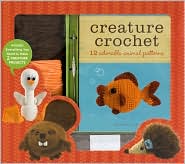 See the little fish? Yep, that's my buddy.
So, am I the only one? Would anybody like to share an "oops" moment in their crafting?